Transglutaminase Food Natural Additive is produced through liquid deep submerged fermentation and unique refined extraction process. Meat Glue Enzyme as a natural Food Additive is safe to use as a natural food additive, it can change the structure and function of protein in food, and then improve food's taste, flavor, texture, appearance etc.



Characteristics of products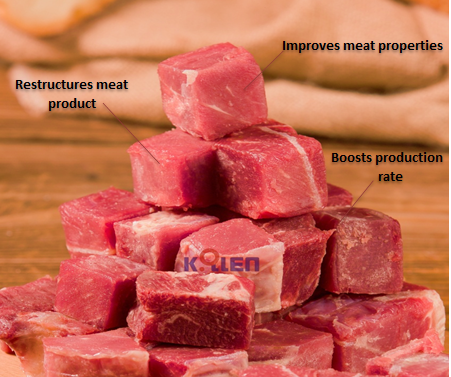 The product has high pH stability, heat resistance and good water dissolution.TGase is safe to use as a natural food additive.
Product Parameters
Item

Specs

Appearance

White or light gray powder

Enzyme activity

100±20 IU/g, 1000 IU/g, 2000 IU/g

Usage

Dissolve in water (e.g. dissolution, powder coating, injection etc.)

Usage Conditions

Recommended dosage

Suggested reaction conditions


0.1% - 0.5% of the total material weight,

or according to the characteristics of the material

40~50℃(20~30min); 0~10℃(6~12hours)


Package:

1.Transglutaminase Powder pack with aluminum foil bag, external use carton packaging. Bag packing specifications:1kg/bag.

2.Product can be packed according to customers' requirements.




Expiry date and storage:

The product should be under 10 celsius degree, avoid light, dry, sealed storage; To prevent moisture absorption and exposed to air for a long time. Shall not be storage with poisonous, harmful, and other contaminative material. In the case of properly storage, shelf life is one year.