Grape is rich in polyphenols, mainly distributed in the pericarp and seeds, red grape skin polyphenols content of 25% ~ 50%, mainly anthocyanins, resveratrol and flavonoids; grape seed polyphenols content of 50% ~ 70%, mainly catechin, quercetin, proanthocyanidins, tannins and so on. Anthocyanins from grape skin extract belong to flavonoids, which have the advantages of good solubility, bright color and easy to combine with food coloring. It is an important Food Additive to replace synthetic pigments. At present, it is widely used in cosmetics and Health Care products.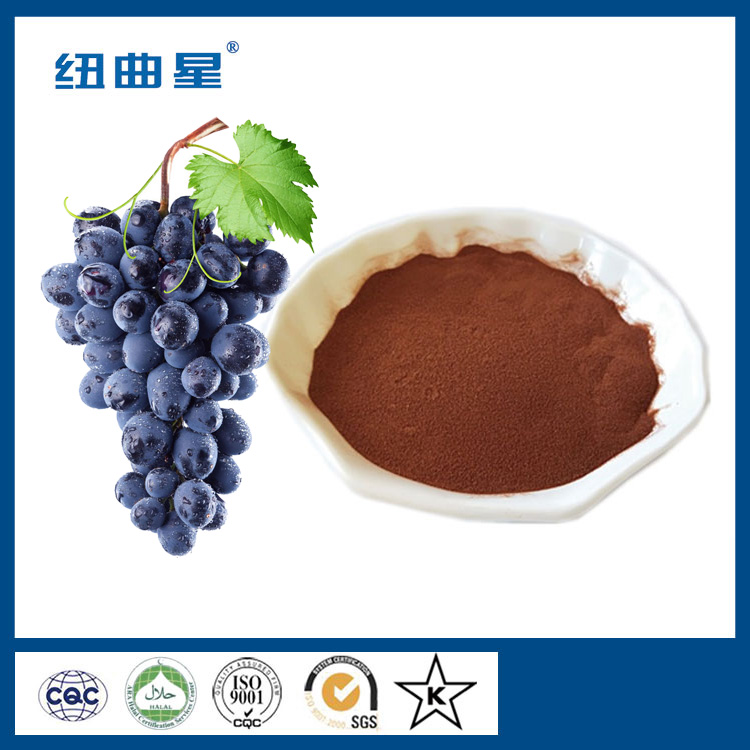 Grape Seed Extract specification and introduction
【specification】:
  Proanthocyanidins: 90, 95, 98
  Polyphenols: 60%, 70%, 80%, 95%
  Low poly: 50%, 60%, 70%
  【CAS Number】: 84929-27-1
  [Origin of raw materials]: France
  [Properties]: reddish brown to brown powder[Plant source]: Seed of grape plant grape Semen vitis vinifer. Grapes, deciduous vines. Palmate leaves, alternate leaves, heart-shaped at the base, close together on both sides, with coarse teeth on the edge 3 to 5 cracks, compound racemes, usually conical, also called panicles, small flowers, yellow-green, mostly round berries Or oval or spherical, the color varies with varieties. The place of origin in western Asia, most of the vineyards in the world are distributed between 20-52 degrees north latitude and 30-45 degrees south latitude, most of which are in the northern hemisphere. Chinese grapes are mostly between 30 and 43 degrees north latitude.
  [Solubility]: soluble in water and most organic solventsTwo, technical indicators
  1. Appearance: reddish brown powder;
  2. Total ash content ≤5%, acid-insoluble ash content ≤2.0%;3. Loss on drying ≤5.0%;
  4. Heavy metals ≤10ppm (Pb≤2ppm, Hg≤1ppm, Cd≤0.5ppm, As≤2ppm);5. Microorganisms (non-irradiated): total number of colonies≤1000CFU/g; molds and yeasts≤100CFU/g; Salmonella: Negative; Escherichia coli: Negative.
  Three, packaging and storage
  [Product packaging]: double-layer plastic bags for internal use, aluminum foil bags or cardboard drums for external use.
  [Packing specifications]: 25Kg/drum
  [Storage conditions]: Store in a cool, dry, dark, and high temperature place.
  [Shelf Life]: Three years